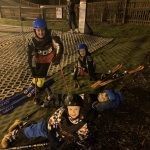 Well what a winter we have had here at Swadlincote, since opening the refurbed slope in October we have seen a huge rise in Open Practice, Lessons and Club sessions and Swadlincote is finally returning to its former glory. 
But the hard work is not over, there are still a few bits that we need to continue to do such as improving spectator areas and lighting around site but looking back on what we have achived here over the past year really is remarkable. 
We have listed below some highlights!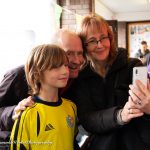 Eddie the Eagle joined us for our Sl'pen Day!
Our Sl'Open Day will be one that will be remembered for years to come. A brilliant event with Eddie attending, lots of old faces and lots of new too!
A Race Club was formed
The Midland Arrows Race Club was formed in October my Midlands Ski Club. Coaches Rodger, Joe and the team from Midlands have all been brilliant in getting this club off the ground!
Some of our racers have not started competing at events and we have had our first medal winner too! Well done t o all the children and adults taking part, we hope to watch you in many more races this year!
2020 will see some new race camps take place here over the summer!
Holiday Camps
A special highlight has been the increased number of children taking part in skiing and snowboarding, our Holiday Camps have been over double the participants of previous years and we hope to be creating many snowsports enthusiasts!
Christmas Functions Sell Out
Christmas saw us take a record number of functions and we were very quickly fully booked for both Umpahs and 80s Festive Nights! Every single night had the best crowds and amazing feedback from the guests!
Star Staff
Our team, as ever have been amazing this winter, great customer service and flexibility for the business and have all taken the opportunity to cross train in other departments. New instructors have come on board as well as existing staff also passing their instructor grade!